Deer Hunting Lodges
Our deer hunting lodges on the ranch are comfortable and designed for a casual, relaxing visit. You will enjoy the beautiful views of the gently rolling hills and 14-acre Forrest Lake while having the comforts of home. Our lodges include the Main House and Bunk House. We also share recommendations for Columbus hotels if you need more space or are on a day hunt. 
Oak Creek Ranch offers a main house that accommodates 7+ guests and a bunk house that accommodates 4 guests. Both houses are located in close proximity so your larger hunting party can book both and easily enjoy time together in the roomy main house or in the outdoor pavilion between the lodges. See details of each house below. Call us with questions!
Main House Hunting Lodge
The Main House is available with trophy hunts and management hunts. Included in your Main House stay on the ranch: 
Meals prepared by our ranch hands:

Early morning Continental breakfast with coffee
After-hunt brunch/lunch
Supper that almost always includes venison sausage

Five bedrooms with accommodations for up to 9 people:

King bedroom with ensuite bath 
King bedroom
2 double twin bed bedrooms
Single twin bed bedroom

2 full baths (in addition to the master bath)
Family room:

3 comfy oversized recliners
2 couches
60″ flat screen TV 
Cozy fireplace

Full kitchen with all cookware, kitchenware, and utensils (if you are still hungry after our hands feed you which is unlikely!)
Fully air-conditioned.
No need for you to bring a thing, except your hunting gear! Book your trophy hunt on management hunt on the ranch soon.
Additional nights in the Main House are $125 per night.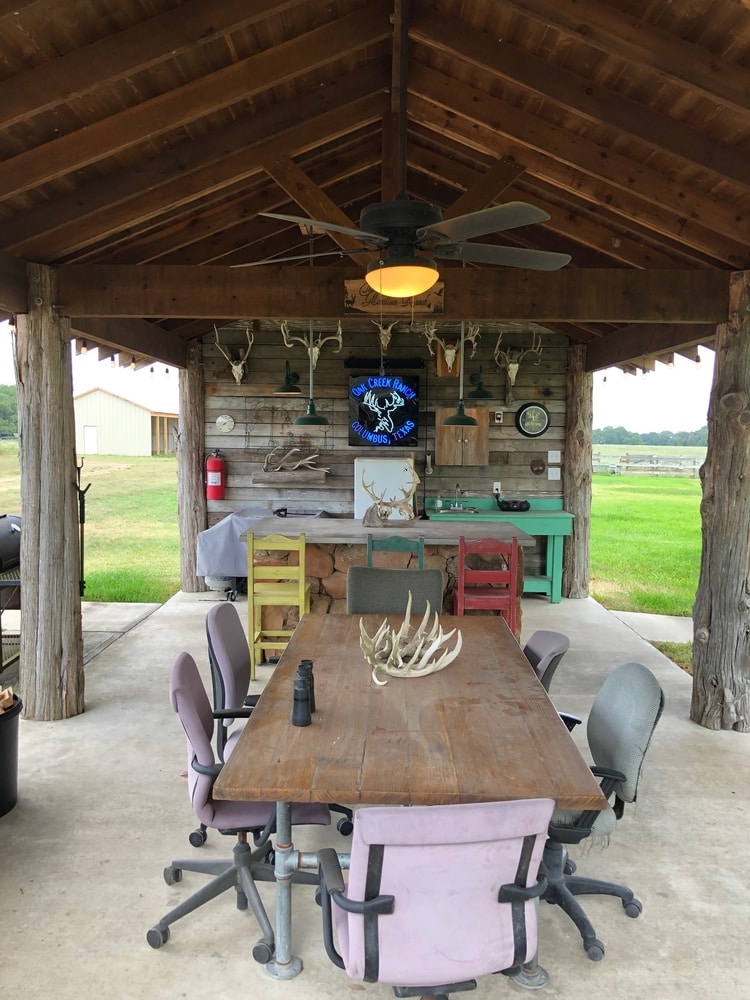 The hunting lodges on the ranch include the Main House and the Bunk House. All our guests enjoy our covered terrace with long dining table, firepit, grill, and bar. The lodges and the surrounding 1,000+ acres including our 14-acre Forrest Lake provide a beautiful place to relax and share stories…yes, a few hunting lies are bound to happen.
Bunk House Hunting Lodge
Our quaint Bunk House can be rented if you need extra space for your hunting party as well as non-hunting guests. The bunkhouse is conveniently located near the Main House with the outdoor pavilion in between. It includes:
4 twin beds bunked, sleeping total of 4
Full bath
A/C
Refrigerator
Microwave
Enormous firepit for the ultimate campfire
Picnic table.
Bunk house rates are $75.00 nightly.
Have Questions About Our Deer Hunting Lodges?
Just call us if you have questions about our lodges, amenities, or packages. 
Local Columbus Accommodations
Here are options for our day hunters who want to stay in the area or if your larger party needs more space than our deer hunting lodges can hold. The nearby town of Columbus offers the following quality hotels:
4321 Interstate 10
Columbus, Texas 78934
Call: 979 733 9300
2427 Hwy 71 South
Columbus, TX 78934
Call: 979 733 0522
2535 Highway 71 South
Columbus, TX, 78934
Just call us if you have questions about our lodges, amenities, or packages.