Trophy Hunts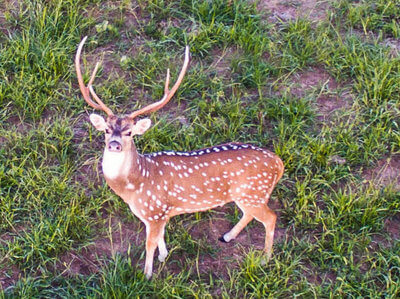 Oak Creek Ranch guided trophy hunts include the following opportunities to take home the buck of your dreams. The 1,000+ acre ranch set in gently rolling hills boasts these species for your trophy hunt:
Addax trophy hunts
Wildebeest bulls
3-Day/2-Night Trophy Hunts
Your experienced hunting guide knows the ranch and its herds. You will be driven out to comfortable carpeted double blinds set on feed plots or deer feeders. If, during your hunt, you wish to upgrade to a higher whitetail B&C score or to a different species, your guide can quote the upgrade on the spot and your new hunt is on.
In addition, other amenities such as catch-and-release fishing in Forrest Lake are available. Or, you can just relax in your lodge or in the outdoor pavilion and enjoy the serenity of the ranch.
Accommodations
All trophy hunts includes accommodations for 9+ in the Main House hunting lodge. The Bunk House with accommodations for 4 is available at extra charge for larger parties that need more space. 
Meals
The ranch hands prepare the following meals for your hunting party:
Early morning Continental breakfast with coffee
After-hunt brunch/lunch 
Beer and cocktails
Supper that almost always includes venison sausage
Do let us know when booking your reservation if you have any special dietary needs.
Trophy Hunt Prices & Payments
See our trophy hunt prices page for pricing and deposit required. See our hunt deposit page for payment options.